Text Marketing For Mobile Tickets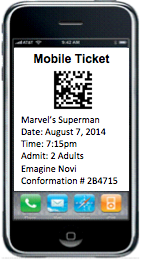 Say good bye to fumbling around in pockets or purses for tickets;
Mobilementum's™
"Ticket It" system delivers to your customers a variety of tickets, i.e. concert tickets, sports event tickets, fundraising event, and transit ticket,
all directly to their cell phone
.
Mobilementum™
"Ticket It" system delivers uniquely identifiable secure tickets to an individual's cell phone number.
Mobilementum's™
mobile tickets contain all the necessary information for the event, i.e. ticket number, seat assignment, event time and location.