How Does Text Marketing Work?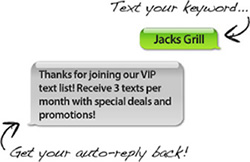 It's actually as easy as 1, 2, 3.
1. Reserve a keyword.
When you select and reserve a keyword, it's yours. It's unique to your business or organization and is what people can text to 91011 to join your text marketing list. When someone texts your keyword to 91011, they'll get an instant response back that you can easily customize. We call these messages "auto-replies".
2. Develop your list.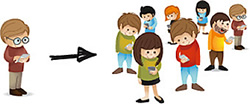 Your customized auto-reply, allows you to grow your list when someone texts your keyword to 91011, every new response will
be added to your text marketing list
. Promoting your list is the most effective way to let people know how they can join. You can do this by adding it to your current advertisement, post info on your website, tell your customers about your program. Provide them an incentive in your auto-reply for joining your list! As your list gets larger the more powerful and effective it will become!
3. Send Out Your Text!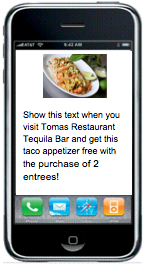 When you want to get the word out about a special offer, event or promotion, just log into your
Mobilementum™
account and send a text message out to your list of subscribers. It gets to them within seconds!
Your customer's phone is now a redeemable coupon
The day, the offer when they receive it is all controlled by you


Customers are prompted to react immediately when they receive your text messages, driving traffic to your business when its needed the most. Text marketing & MMS marketing provide customers with specific benefits as they gain instant access to special deals, and information from preferred businesses they connect with.
There are many reasons Text message marketing works…
One reason, today, almost everyone has a cell phone and keeps it within an arm's reach throughout the day! 97% of all texts are also read within the first 5 minutes. That's an incredibly powerful compelling statistic for text messaging marketing.
Permission-based SMS marketing allows you to communicate to a highly targeted audience who cares about your business and are interested in what it has to say!
Mobile marketing is the fastest cost-effective way to put coupons and special offers into your customers' hands. If you're really interested in learning more about how to get started,
contact us
!